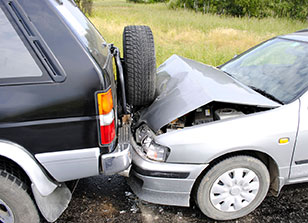 At Waterdown Collision we are committed to helping our customers deal with their vehicle collision needs and provide a 24h accident towing service to ensure we can help any time you are in a jam! Being involved in any kind of car accident can be extremely overwhelming and scary experience, but here are some tips to make the post-accident process run a lot smoother!
You have just gotten into an accident, now what? Stay calm and assess the situation for any danger. If you or anyone is hurt, call emergency services right away to ensure every one receives proper medical attention. After being involved in an accident you may not immediately feel like you have suffered an injury but often car accident related injuries do not appear for hours or days after the event has occurred. Injuries such as whip lash are delayed and can cause chronic pain and discomfort. It doesn't hurt to get a second opinion, to document any changes that could have happen due to the accident. Occasionally when accidents occur, one party will offer to pay a lump sum of money to make the situation go away. Although the quick fix is tempting, the accident could be accompanied with issues that have negative long term consequences.
All car accidents that involve injuries, or damage over the provincial limit of $1000 dollars must be reported to the authorities. Although some accidents do not necessarily need police intervention, it is always nice to have assistance after facing a traumatic event like a vehicle collision. When police arrive on the scene they will often help document the accident scene and ask both parties their rendition of the event. The police report is a valuable source if you ever need to pursue a law suit, and can help build and verify your case.
After urgent matters are taken care of there is vital information you should exchange with everyone involved in the accident. Attaining names, addresses, license plate number, and insurance particulars will help when you are in the process of making an insurance claim. It is also beneficial to get information of any bystanders that might have witnessed the accident and could make statements regarding the event. If you have a pen and paper it is also helpful to draw a picture of the scene, showing where both the cars are located, street names, and traffic lights. All these little details will help make your insurance claim process smoother and quicker.
Once you have collected the necessary information you will need to contact your insurance company as soon as possible to start and fully complete a claim. For the quickest processing times ask your insurance company if they have preferred collision repair shops. Often insurance companies have established systems with repair shops that help your claim get processed sooner and get your car back on the road faster! Also find out how your insurer handles supplemental repairs in case your repair technician finds damage that was not accounted for in the original estimate. Finally make sure that your insurance company has agreed to pay for all necessary repairs before having the work done. It is not fun to be stuck with a bill that you did not intend on paying!
Getting in a car crash is a huge inconvenience, but here at Waterdown Collision we make it our priority to get you back on the road. Our team will help you tow your vehicle and take the next steps to resuming your busy life. Not only do we provide 24h accident towing, we also have a hot coffee waiting for you at the shop! We are a one stop collision shop with on-site rental cars available so you won't have to put your life on hold. For a quick reference to our post-accident tips download and print our PDF and keep it in your vehicle just in case! Our comprehensive to-do list, will make you prepared if you every face a vehicle collision.