Being in an accident can be difficult enough. And then to add to the stress, you need to choose an auto collision repair shop.
Knowing who can be trusted to complete the necessary repairs can be challenging. There are so many collision repair shops to choose from, and prices can fluctuate widely.
How do you know when you're getting a fair deal? How can you identify a collision repair shop that will complete a quality job and stand behind their work?
Follow our tips below to help you find a quality collision repair shop when you need it the most!
Research the Shop's Reputation
Many auto collision repair shops rely on word of mouth referrals from past customers to stay in business. Getting a referral from a friend or family member for a collision repair shop is a great place to start when looking for a quality shop.
Found a shop you're interested in using, but haven't heard anything (good or bad) about its reputation? Use Google to check out online reviews.
Check for a Gold Class Plaque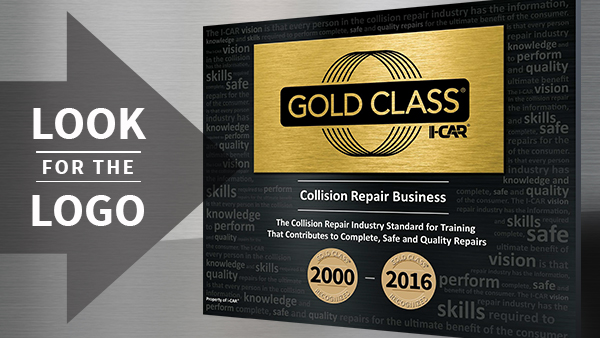 Awarded by I-CAR (a not-for-profit organization created by the collision repair industry) the Gold Class plaque or logo displayed inside a shop should instill confidence as a consumer.
Receiving this accreditation means the shop has met the industry's standard for training and is dedicated to completing quality, safe repairs.
A Shop's Atmosphere Says a Lot…Without Actually Saying a Thing!
A shop that features modern equipment means that the shop remains current on the latest skills and knowledge.
Collision repair shops that stand out from others are ones that are also clean, well-organized and have friendly, professional employees.
If All Else Fails, Trust Your Instincts!
The tips above can help you assess the collision repair shop's quality. But sometimes, it all comes down to trusting your own instincts.
Vehicle collision repairs can be costly, so choosing to spend your hard earned money where you feel comfortable is important. It can often be several days of communicating with the shop until your repair is completed, so feeling comfortable with who you're dealing with is crucial.
Waterdown Collision: Your #1 Solution for Quality Automotive Collision Repairs
Since 1974, Waterdown Collision has been committed to providing the best in automotive collision repairs and is an I-CAR GOLD CLASS Certified Collision Center.
We are well known for providing quality auto body repairs that feature a lifetime warranty. Throughout the whole experience, you will be treated respectfully and professionally, and have all your questions answered.
As a family-run business, we are committed to providing customer satisfaction for each and every repair we complete.
Contact us today to see what makes us the best automotive collision repair shop in the area!