Do you need to fix a smashed, cracked, or just plain broken windshield? Don't fret; there are some easy and simple ways to get the job done right. Read on for some simple steps to help assure the job is done correctly.
Your window may just have a crack, or it may be fully shattered, either way a broken car window needs to be fixed. Here are a few quick tips on how to do just that.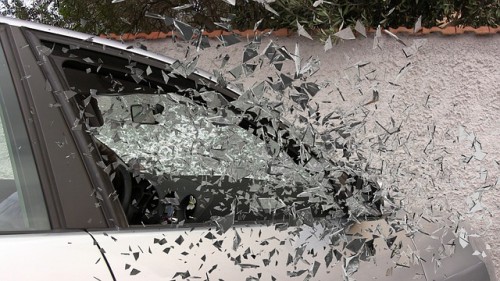 1. Contact your insurance company
Insurance coverage changes from province to province, so you need to contact the company that covers your comprehensive insurance coverage. Find out exactly what they cover and what they don't cover. Some companies may cover full replacement while others may only cover minor repairs. Get the facts before you call for repair.
"Comprehensive coverage" is the insurance that covers loss or damage to your car caused by fire, theft, weather, mischief, acts of God, or vandalism and does not include loss by collision or upset. There is also usually a deductible. Find out how much your deductible is so that you are prepared.
2.Decide how you will cover the cost
This is where you have to decide whether to pay the deductible, or just pay for the window out of pocket. Usually, replacing an entire windshield is considerably more than the deductible (this can range from $100 to $500) so it's worth using your insurance. Double-check to make sure this won't increase future premiums. Once you have all the facts, you'll be able to make an informed decision.
For example, let's say it's the side window that needs replacing. And let's say your deductible is $300 and the side window will cost around $300. You may want to skip insurance entirely and just deal with it privately. Knowing your costs up front will help you decide what to do next.
Your first glass replacement shouldn't have any effect on your insurance rates. But heaven forbid you should make three or more glass claims within a three-year period, they may ding you for additional fees when it's time to renew. Always double-check to make sure you are choosing the right options on your insurance policy. Being informed will save you money in the long run.
3. Find a reputable repair shop
In order to get a windshield or car window replaced reliably, you want to go to an expert. If you have a favourite mechanic, ask for a referral. Check with your friends to see who they recommend. Often referrals are the best way to find the most reliable shop. Check out online reviews for repair shops too.
Give your car dealer a call to see if they can help. Check with the Better Business Bureau if the rate you've been given for the repair is too good to be true—the shop may be using inferior products and adhesives. Always do your homework before choosing your repair shop.
And when getting quotes from repair shops, don't trust anyone who says you can drive away sooner than three hours after the install.
If you follow these simple tips and you'll be on your way to an efficient and worry-free window repair. If you're looking for the best window replacement in the area Contact Us today!