Dante, the DiFelice family, and indeed the whole Waterdown Collision team is at again in their quest to help find a cure for a devastating disease that affects thousands of Canadian children. And we would love it if you too would be part of the team that is working to make Cystic Fibrosis history!
How You Can Help
On Sunday, May 26th at Bayfront Park in Hamilton, Dante's Journey to the Cure will be walking to raise money for Cystic Fibrosis research. You can show your support by either joining the team and walking alongside us or by making a monetary donation to the team.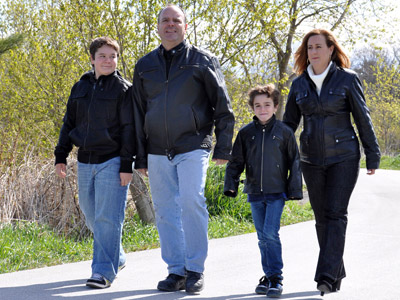 Our goal is to raise a total of at least $30,000 over the course of 2019 (through this and other events) and every donation no matter what size helps us get closer to that goal – and closer to a cure!
Who is Dante?
Dante is the teenage son of the DiFelice family and he was born with Cystic Fibrosis. Despite his diagnosis and the numerous medical treatments that Dante has needed over the years, he is a happy and active young man who enjoys sports including hockey and soccer.
He is an active participant in all his family's efforts to raise money for Cystic Fibrosis research and he dreams of a day when no child will have to grow up with the devastating effects caused by this disease.
What is Cystic Fibrosis?
Cystic Fibrosis (CF) is a fatal genetic disease that causes a build-up of mucus in the lungs and which makes it very difficult to breathe. Those with the condition are often unable to fully inhale. The sensation has been described by those with CF as feeling like drowning. Those with CF tend to suffer from frequent lung infections which can worsen to pneumonia.
CF can also cause persistent coughing and wheezing, bowel disturbances and weight loss or being chronically underweight as well as inflammation of the pancreas, kidneys, heart, and liver. There is no cure.
Cystic Fibrosis Research and Treatment
Although there is no cure for CF, research and treatment have come a long way in recent years. In the past, those with CF rarely survived into adulthood, but with modern medicine, the average life expectancy is now 37.5 years with higher estimates in a range between 42 and 50. And as research continues, this age is expected to climb even higher.
There is no denying that focussed efforts on research and treatment are dramatically improving the lives of those living with CF. But there is still a long way to go.
Help us make Cystic Fibrosis History!
Event Details
Walk To Make Cystic Fibrosis History Information:
May 26, 2019
Bayfront Park, Hamilton, 200 Harbour Front Drive
9:00 a.m. – 12:00 p.m.
DONATE TODAY: Click here.
Join Our Team & Walk on May 26, 2019: http://bit.ly/JoinTeamDante
(Search for Dante's Journey To The Cure!)